About If I Die Tonight Paperback:384 pages
Publisher:William Morrow Paperbacks (March 6, 2018)
Reminiscent of the bestsellers of Laura Lippman and Harlan Coben with a dose of Big Little Lies or Stranger Things an absorbing, addictive tale of psychological suspense from the author of the highly acclaimed and Edgar Award-nominated What Remains of Me and the USA Today bestselling and Shamus Award-winning Brenna Spector series, in which a seemingly open-and-shut police case with a clear-cut hero and villain turns out to be anything but simple.
Late one night in the quiet Hudson Valley town of Havenkill, a distraught woman stumbles into the police station and lives are changed forever.
Aimee En, once a darling of the 80s pop music scene, claims that a teenage boy stole her car, then ran over another young man who'd rushed to help.
As Liam Miller's life hangs in the balance, the events of that fateful night begin to come into focus. But is everything as it seems?
The case quickly consumes social media, transforming Liam, a local high school football star, into a folk hero, and the suspect, a high school outcast named Wade Reed, into a depraved would-be killer. But is Wade really guilty? And if he isn't, why won't he talk?
Told from a kaleidoscope of viewpoints Wade's mother Jackie, his younger brother Connor, Aimee En and Pearl Maze, a young police officer with a tragic past, If I Die Tonight is a story of family ties and dark secrets and the lengths we'll go to protect ourselves.

Purchase Links
Review:
This was one of those books that pulls you in right from the start, it has a powerful prologue and then flips back in time five days earlier. It's told from a handful of perspectives but I enjoyed hearing from Jackie, mom to two teenaged boys and Pearl, a police officer the most. Jackie was relatable to me and I could feel her anxiety and fear for her sons, it broke my heart to pieces and the author did a fantastic job at showing a mother's worst fears. You get a sprinkling of police procedural as well with Pearl's POV and she was exactly the kind of cop I like reading about, flawed and damaged with an interesting backstory but still has a heart of gold.
This book scared me and I don't mean that in the traditional sense of the word, it scared me in a realistic way as I can easily see this sort of thing happening in real life. Wade is an outcast at his high school, he's a social pariah and really has no friends. When's he's the main suspect after his super popular classmate is hit by a car, what little dignity and solitude he had is shattered. Social media played a huge role in this book, much as it plays a huge part in all of our lives daily and showcased the dark side of it and how powerful it really can be. The gossip, speculation and rumors after the small town of Havenkill are rocked by the accident is unreal, the author likens it to a virus, a disease and that's such a great comparison as these vicious rumors infect the whole town and impact so many people's lives.
This was my first book by Gaylin and I'm really impressed, she weaves a compelling story and one that kept my attention the whole way through. This would be a great book club read as it tackles many relevant and current issues such as peer pressure, metal health issues and the negative effects of social media. Recommended for fans of authors like David Bell and Harlan Coben.
If I Die Tonight in three words: Timely, Compelling and Tense.
Overall rating: 4/5
Thanks to the publisher and TLC Book Tours for my review copy.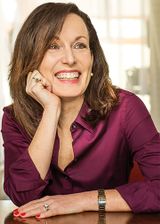 Photo by Franco Vogt[/caption]
About Alison Gaylin
Alison Gaylin is the award-winning author of Hide Your Eyes and its sequel, You Kill Me; the standalones Trashed and Heartless; and the Brenna Spector series: And She Was, Into the Dark, and Stay with Me. A graduate of Northwestern University and of Columbia University's Graduate School of Journalism, she lives with her husband and daughter in Woodstock, New York.
Find out more about Alison at her website, friend her on Facebook, or follow her on Twitter.