About Look for Her
Paperback:304 pages
Publisher:William Morrow Paperbacks (February 13, 2018)
Everyone loves a beautiful missing girl
"Look For Her ratchets up the tension while also offering moments of sheer grace."-Riley Sager, bestselling author of Final Girls
"Beautifully written with an expertly twisty, surprising story, this is a must-read!Chevy Stevens, New York Times bestselling author of Never Let You Go
Lilling might seem like an idyllic English village, but it's home to a dark history. In 1976, a teenage girl named Annalise Wood disappeared, and though her body was later discovered, the culprit was never found. Decades later, Annalise maintains a perverse kind of celebrity, and is still the focus of grief, speculation, and for one young woman, a disturbing, escalating jealousy.
When DNA linked to the Annalise murder unexpectedly surfaces, cold case detective Morris Keene and his former partner, Chloe Frohmann, hope to finally bring closure to this traumatized community. But the new evidence instead undoes the case's only certainty: the buried body that had long ago been confidently identified as Annalise may be someone else entirely, and instead of answers, the investigators face only new puzzles.
Whose body was unearthed all those years ago, and what happened to the real Annalise? Is someone interfering with the investigation? And is there a link to a present-day drowning with eerie connections? With piercing insight and shocking twists, Emily Winslow explores the dark side of sensationalized crime in this haunting psychological thriller.
Search the book's hashtag: #lookforher.

Purchase Links
Review:
One of my favorite types of premise in a mystery is a cold case, I love the idea that a criminal thinks they've managed to stay off the polices radar only for new evidence to be uncovered years later and put their freedom in jeopardy. The case of Annalise is the type that had instant fame that lasted years, even after her body was found AND especially since her killer was never caught. A pretty young teenager that vanished only to be found years later is legendary in Lilling and the links between past and present turned out to be chilling and intriguing.
Apparently this is the fourth book in a series but since I didn't even realize until after I had finished this, it clearly wasn't an issue for me. There is definitely a tricky history between Chloe and Morris but there was enough information provided that I felt caught up. You hear from Chloe and Morris but also from Annalise Williams, a young woman with an odd fascination with Annalise Wood and Laurie a therapist who treats Annalise. Most of the story is told in a straightforward, linear timeline but there were a few chapters with transcripts from Annalise's therapy sessions that I really enjoyed.
This was fast paced, it's under 300 pages and I flew through it at a rapid pace. There's a heavy emphasis on the psychology of the characters and I'm not sure if that's just because there's a therapist as one of the characters or if it's the norm for Winslow, but either way I liked the depth that it added. Recommended for those who enjoy character driven mysteries with smart twists and strong writing.
Look For Her in three words: Intelligent, Insightful and Puzzling.
Overall rating: 4/5
Thanks to the publisher and TLC Book Tours for my review copy.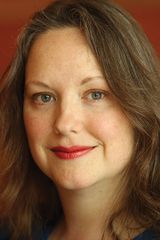 Photo by Jonathan Player
About Emily Winslow
Emily Winslow is an American living in Cambridge, England. She is the author of the novels The Whole World, The Start Of Everything, and The Red House.
Find out more about Emily at her website, and connect with her on Facebook.